Airport History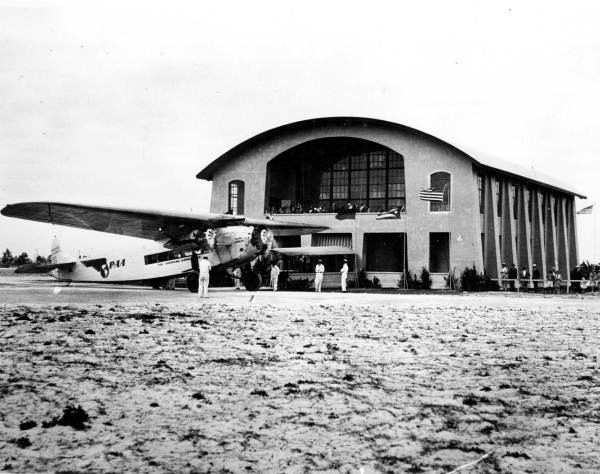 Pan Am's first terminal, 1930s.
Photo Credit: Copyright Florida Photographic Collection.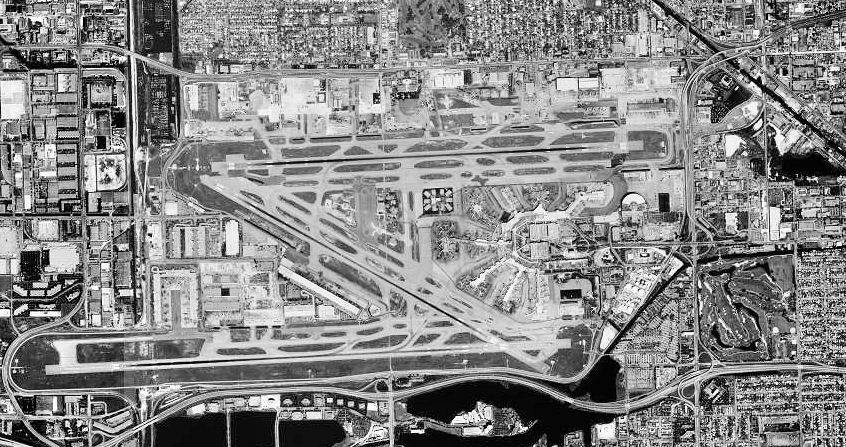 The airport in 1999..
Photo Credit: USGS. Public domain.
The airport opened in 1928 as Pan American Field, the operating base of Pan American Airways Corporation, on the north side of the modern airport property. After Pan Am acquired the New York, Rio, and Buenos Aires Line it shifted most of its operations to the Dinner Key seaplane base, leaving Pan Am Field largely unused until Eastern Air Lines began flying there in 1934, followed by National Airlines in 1937. The airport then extended south from 36th St to an east–west rail line that until 1951 was about where runway 8R is now.
In 1945 the City of Miami established a Port Authority and raised bond revenue to purchase the airport, which had been renamed 36th Street Airport, from Pan Am. It merged with the Army airfield south of the railroad in 1949 and expanded further in 1951 when the railroad line was moved south to make room. The old terminal on 36th Street was closed in 1959 when the modern passenger terminal (since greatly expanded) opened. Air Force Reserve troop carrier and rescue squadrons also operated from Miami International from 1949 through 1959, when the last unit relocated to nearby Homestead Air Force Base, now Homestead Air Reserve Base.
After Frank Borman became president of Eastern in 1975 he moved Eastern's headquarters from Rockefeller Center in New York City to a campus next to MIA. Eastern remained one of the largest employers in the Miami metropolitan area until ongoing labor union unrest, coupled with the airline's acquisition by union antagonist Frank Lorenzo in 1986, ultimately forced the airline into bankruptcy in 1989.
Pan Am, the other key carrier at MIA, was acquired by Delta Air Lines in 1991, but filed for bankruptcy shortly thereafter. Its remaining international routes from Miami to Europe and Latin America were sold to United Airlines for $135 million as part of Pan Am's emergency liquidation that December. United maintained a Latin American hub at MIA through the 1990s but ended flights from Miami to South America, and shut down its Miami crew base, in May 2004, reallocating most Miami resources to its main hub in Chicago.
Stricter visa requirements for aliens in transit (a result, in part, of the September 11, 2001 attacks) have lessened MIA's role as an intercontinental connecting hub, but it remains the most important hub between Europe and Latin America. In 2004 Iberia Airlines ended its hub in Miami, opting to run more direct flights from Spain to Central America. Air France continues to fly Airbus A320s to Port-au-Prince.[citation needed] Today, more European carriers serve Miami International Airport than any other airport in the United States, except New York City's John F. Kennedy.